Josef Matosevic
President & Chief Executive Officer
Josef Matosevic joined the Company in June 2020. Prior to joining the Company, he had served as Executive Vice President and Chief Operating Officer of Welbilt, Inc. (NYSE: WBT), a global manufacturer of commercial foodservice equipment, since August 2015. Mr. Matosevic also served as interim President and CEO from August through November 2018. Previously, he held the role of Senior Vice President of Global Operational Excellence at The Manitowoc Company, Inc. (NYSE: MTW), a world leading provider of engineered lifting solutions, from 2014 to 2015, and as Executive Vice President of Global Operations from 2012 to 2014. Prior to joining MTW, Mr. Matosevic served in various executive positions with Oshkosh Corporation (NYSE: OSK), a designer, manufacturer and marketer of a broad range of specialty vehicles and vehicle bodies, from 2007 through 2012. Mr. Matosevic also served as its Executive Vice President, Global Operations from 2010 to 2012, with responsibility for the defense segment, companies global operating systems and lean deployment. He previously served as Vice President of Global Operations from 2005 to 2007 and Chief Operating Officer from 2007 to 2008 at Wynnchurch Capital, a sub-assembler, distributor and sequencer of complex engineered modules for automotive original equipment manufacturers. Mr. Matosevic has over 26 years of global operating and business experience, with skills and focus on Commercial Sales, M&A, Strategic Operating Systems, Lean Six Sigma practices, automation, and supply chain development. Mr. Matosevic holds a bachelor's degree from Bayerische Julius-Maximilian's Universität in Würzburg, Germany.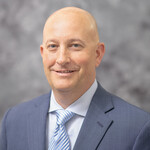 Sean Bagan
Chief Financial Officer
Sean Bagan joined the Company in August 2023. Prior to joining the Company, Mr. Bagan spent 23 years at Polaris Inc., a global leader in powersports and off-road innovation. With extensive financial management leadership experience, Bagan brings more than 20 years of international business, strategic financial operations, and leadership experience. His responsibilities scaled with Polaris over the decades in operational finance, international sales, product segments, acquisitions and corporate finance and treasury. In addition to financial management positions, his roles included general management and operational oversight for U.S. and global businesses. He earned his B.A. double major in Accounting and Management from St. John's University in Minnesota and began his career with Arthur Andersen, LLP. Mr. Bagan also holds a General Management Certificate from Cambridge University's Judge Business School in England, along with a Certified Public Accountant (Inactive) Certificate from the state of Minnesota.
Matteo Arduini
President of Hydraulics, EMEA (Europe, Middle East, and Africa)
Matteo Arduini was appointed General Manager of Faster S.r.l. in 2018, after having served as Faster's Chief Financial Officer beginning in April of 2018. From September 2012 to April 2018, Mr. Arduini was with Brevini /Dana Incorporated (NYSE: DAN). He served as the CFO of the Brevini Group and the project leader in Dana's acquisition of Brevini Group. For one and a half years after the acquisition, he served as Head of Finance in Dana Brevini Italy. Mr. Arduini graduated from the University of Parma in 1998 with a degree in Economics and gained professional experience through roles at Ernst & Young, Ferrari Cars and Technogym.
Rick Martich
President of Hydraulics, Americas and SVP, Global Operations and Systems Sales
Rick Martich joined Enovation Controls in 2006 and progressed from managing customer service and quality, through leading global manufacturing, to operations and international sales. Mr. Martich was promoted to his current role in April 2023. He has over 25-years of leadership experience in engineering, manufacturing, finance and sales. Mr. Martich began his career in 1994 as a process/project engineer with PPG Industries. He went on to The Boeing Company where he led Lean Manufacturing activities on the 777 Floor Beam value stream and implemented Toyota Production System concepts & tools. He then spent time with Level 3 Communications where he progressed through a variety of roles across finance, engineering and services. He earned his Bachelor of Mechanical Engineering degree from Georgia Tech and his MBA from The University of Tulsa with a focus in finance. A Six-Sigma Black Belt, Rick is also a Gemba & Distribution Kaizen Coach.
Lee Wichlacz
President, Electronics
Lee Wichlacz joined the company in December 2022. Prior to joining the Company, he had served as the Group Vice President and General Manager - Americas, at Welbilt, Inc. In that role he led the Americas product lines as well as its global manufacturing, supply chain, technology, and new product introduction teams. At Welbilt, Mr. Wichlacz served in multiple leadership roles throughout his tenure. This includes Senior Vice President Canada Region and Managing Director, Cleveland, Garland and Lincoln; Senior Vice President Product Management and Engineering, and Managing Director, Manitowoc Ice; Senior Vice President Global Operations and Procurement; Vice President and General Manager, Manitowoc Ice. Prior to joining Welbilt in 2007, Mr. Wichlacz spent 21 years with the Healthcare Division of General Electric. He began his career as a design engineer and progressed to various engineering and operations roles, including executive management. He was directly involved in designing and manufacturing digital X-ray, mammography, angiography, cardiology, and computed tomography (CT) equipment. During his career, Mr. Wichlacz has directly led global engineering and operations teams in the United States, Canada, Mexico, the United Kingdom, Germany, France, Japan, China, and India. Lee has extensive experience in the areas of global expansion, profitable growth, operational excellence, new product innovation, and team building. Mr. Wichlacz earned a bachelor's degree in mechanical engineering from the University of Wisconsin-Platteville and holds a master's degree in mechanical engineering from Marquette University. He is a certified Six Sigma Master Black Belt and holds several patents in both the healthcare and foodservice industries.
Billy Aldridge
Senior Vice President and Managing Director, Enovation Controls
Billy Aldridge joined FW Murphy as the OEM Sales Manager in 2008 where he grew the marine market. In 2009, FW Murphy merged with EControls, forming Enovation Controls (which was acquired by Helios in 2016.) He proceeded to advance into a Director position in 2015 and then in 2018 moved to the position of VP of Business Development. Mr. Aldridge brings over 21 years of experience in the electronic and operations industry. He started his career with MerCruiser/Mercury, part of the Brunswick Corporation in 2000, where he earned his Lean Six Sigma and worked in many different functional areas including Supply Chain, Program Management & OEM Sales. He has a bachelor's degree in Sociology from Oklahoma State University.
Jean-Pierre "JP" Parent
Senior Vice President and Managing Director, Balboa Water Group
JP Parent joined the Company through the acquisition of the Balboa Water Group in November 2020. He has more than 35 years of managerial experience in international companies. After moving his family from France in 1988, he served in an executive capacity. His areas of focus included planning, developing and executing innovative solutions to address the strategic business plans of global organizations. Before joining this industry in 2002, Mr. Parent worked 19 years for the Zodiac group in various positions. Serving as Quality Assurance Manager, Plant Manager and Executive Vice President, he led the turnaround of newly acquired subsidiaries and instilled operating discipline in the organization. Born in Paris, Mr. Parent is bilingual and received a MS in Aeronautical Engineering at the E.N.S.M.A. in Poitiers, France and a certificate in marketing from Stanford University.
Doug Conyers
Senior Vice President, Innovation and Technology
Doug Conyers joined the Company in January 2021 through the BJN Technologies acquisition into the newly created role Vice President of Engineering Excellence. Mr. Conyers was promoted to his current global role in October 2022. Prior to Helios acquiring BJN, he spent five years as CEO/Partner at BJN Technologies, a technology start-up that worked closely with Enovation Controls. Prior to BJN, Doug worked at Enovation Controls as Director of Mobile Hydraulic Controls Solutions. Earlier in his career, he was responsible for product management, software development, and quality assurance with Globalscape. Doug was also with SecureLogix where he held positions as chief architect, director of systems engineering, and senior software engineer. Mr. Conyers also held software engineering positions with both the Southwest Research Institute and Paradigm Simulations. Doug is the author of several patents in the telecommunications security market. He graduated magna cum laude from Trinity University with a Bachelor of Science degree in Computer Science.
Marc Greenberg, Esq.
General Counsel and Secretary
Marc Greenberg joined Helios in 2021 and brings over 15 years of legal experience to the Company. He currently serves as the General Counsel and Secretary for the organization and its subsidiaries. He is responsible for managing the legal and compliance activities of the enterprise on a global basis. Prior to joining the Company, Mr. Greenberg previously had been General Counsel of Diversified Maintenance Systems, LLC and prior to that was Associate General Counsel to Welbilt Corporation (NYSE: WBT). Prior to his corporate experience, Mr. Greenberg was a litigation attorney in the New York/New Jersey area. He graduated from Muhlenberg College in Allentown, PA with a degree in Economics and has a Juris Doctorate degree from Nova Southeastern in Davie, FL, as well as an MBA from Louisiana State University.
Tania Almond
Vice President, Investor Relations and Corporate Communication
Tania Almond joined the Company in August 2020 with over 25 years of experience. She has led investor relations, corporate communication and competitive intelligence for companies including W. R. Grace (NYSE:GRA), GXS/OpenText (NASDAQ:OTEX), Sourcefire (NASDAQ:FIRE), WiderThan (NASDAQ:WTHN), and NeighborCare (NASDAQ:NCRX). Most recently, she worked in investor relations with the Fortune 100 company Tech Data (NASDAQ:TECD), taken private by Apollo Global Management in June 2020. She has led companies through five initial public offerings (IPOs) / spin-outs in the lead investor relations role. In addition, Ms. Almond worked in the IR role with the "acquired" company five times. At the start of her career, she was an equity analyst with Legg Mason Wood Walker, Inc. for close to six years following the telecommunication, technology, and healthcare sectors. She earned a B.A. in Business with a concentration in Computer Information Systems from Notre Dame of Maryland University and an M.B.A. in Finance from The Johns Hopkins University - Carey Business School.